The DCU ( "Display Control Unit" or "Digital Control Unit") is a critical component of modern Ag technology, and its primary function is to manage and display information related to the Ag equipment's operation.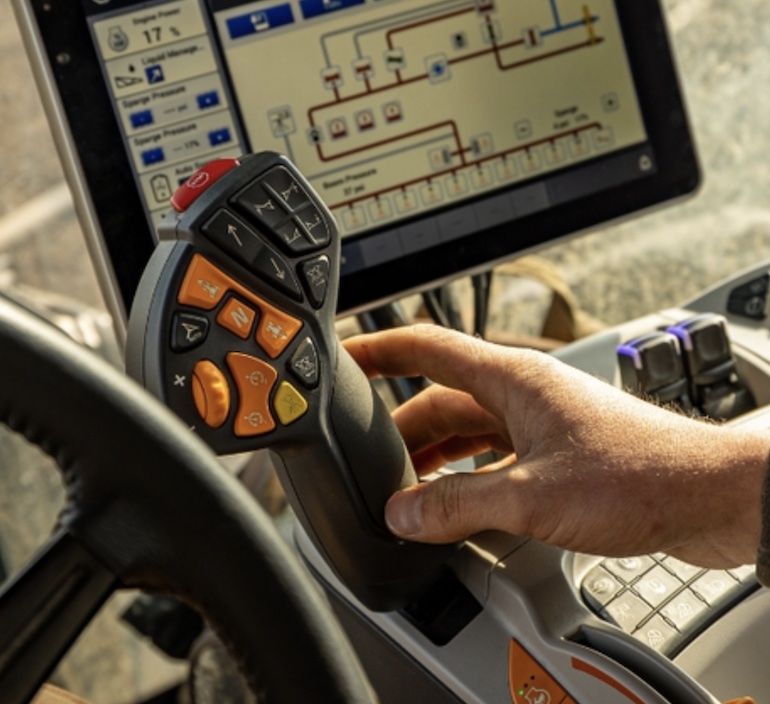 Key functions and features of a DCU may include:
Data Display: The DCU provides a user-friendly interface for displaying essential information to the operator. This information can include engine parameters, fuel levels, speed, hydraulic pressure, temperature, and more.
Fault Code Display: The DCU can display Diagnostic Trouble Codes (DTCs) or fault codes when an issue or malfunction is detected in the machine's systems. These codes help operators and technicians identify and diagnose problems quickly.
Control Interface: In some cases, the DCU allows operators to interact with and control various equipment functions, such as adjusting engine speed, hydraulic settings, or selecting different operational modes.
Data Logging: Many DCUs have data logging capabilities, allowing them to record and store information about agriculture equipment performance and operations. This data can be valuable for maintenance and troubleshooting.
Connectivity: Some DCUs offer connectivity options, allowing them to communicate with other devices, such as GPS systems or farm management software, for tasks like precision farming and data analysis.
Operator Comfort: The DCU often plays a role in enhancing operator comfort by providing climate control settings, entertainment options, and ergonomic controls.
Safety Features: The DCU may also be linked to safety features, such as monitoring systems for rollover protection, seatbelt usage, or alerting the operator to potential safety hazards.
The specific features and capabilities of a Farming Equipment DCU can vary widely depending on the tractor's make and model, as well as the technology integrated into the machine.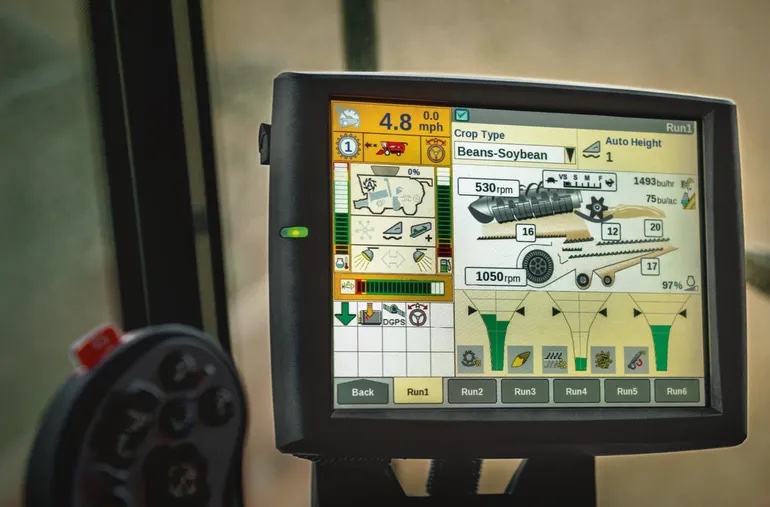 Ultimately, the DCU serves as the central hub for monitoring and controlling various aspects of equipment operation, helping operators work efficiently and safely.
New Holland & Case IH DCU Errors
DCU 19001 Battery voltage detection (electrical) | signal high | P0563 Battery voltage estimate above upper limit
DCU 19002 Battery voltage detection (electrical) | signal low | P0562 Battery Voltage Evaluation Below Low Limit
DCU 19010 Post Catalyst Temperature Sensor (Electrical) | High Signal | P042D High Signal in Catalyst Temperature Sensor Circuit
DCU 19011 Temperature sensor after catalytic converter (electrical) | signal low | P042C Low signal in the catalyst temperature sensor circuit
DCU 19019 Temperature sensor in front of the catalyst (electrical) | High signal level | P0428 High signal level in the catalyst temperature sensor circuit
DCU 19020 Temperature sensor before catalytic converter (electrical) | signal low | P0427 Low signal in the catalyst temperature sensor circuit
DCU 19037 Sensor supply 2 (internal 5 V; for urea pressure sensors) | Supply voltage too high | P204D Reagent – pressure sensor – short circuit, high
DCU 19038 Sensor supply 2 (internal 5 V; for urea pressure sensors) | Supply voltage too low | P204C Reagent – pressure sensor – short circuit, low
DCU 19046 Urea pressure sensor in box (electrical) | supply voltage error | P204A Reagent – pressure sensor – open circuit
DCU 19047 Urea box pressure sensor (electrical) | signal high | P204D Reagent-pressure sensor-short circuit high
DCU 19048 Urea pressure sensor in box (electrical) | signal low | P204C Reagent – pressure sensor – short circuit, low
DCU 19055 Urea box temperature sensor (electrical) | signal high | P2045 Reagent – pump module temperature sensor – short circuit high
DCU 19056 UREA temperature sensor in box (electrical) | signal low | P2044 Reagent – pump module temperature sensor – short circuit, low
DCU 19064 Supply voltage for internal heaters 1 (UB1) electric | Open circuit to UB1 | P20C5 pump module – internal heating – open circuit
DCU 19065 Supply voltage for internal heaters 1 (UB1) electric | Short to bit on UB1 with key disabled 15 | P20C8 pump module – internal heating – short circuit high
DCU 19073 Power supply Two-pipe heaters (UB2) electric | Short to bit on UB2 with key disabled 15 | P20C4 Reagent – suction tube heating – short circuit high
DCU 19074 Power supply Two-pipe heaters (UB2) electric | Open circuit on UB2 | P20C1 Reagent – suction tube heating – open circuit
DCU 19075 Power supply Two-pipe heaters (UB2) electric | Short circuit to ground UB2 | P20C3 Reagent – Suction Tube Heated – Short circuit, low
DCU 19082 Power supply 3 – Coolant control valve and check valve (UB3) electric | Short to bit on UB3 with key disabled 15 | P20A3 Vent valve (reductant purge control valve) – short circuit high
DCU 19083 Power supply 3 – Coolant control valve and check valve (UB3) electric | Open circuit on UB3 | P20A0 Vent valve (reductant purge control valve) – open circuit
DCU 19084 Power supply 3 – Coolant control valve and check valve (UB3) electrical | Short circuit to ground UB3 | P20A2 Vent valve (reagent purge control valve) – short circuit, low
DCU 19091 Voltage control VDD11 – Dosing valve | low supply voltage | P0658 12 V power supply for the dosing module – below the lower limit
DCU 19092 VDD11 voltage monitoring – dosing valve | high supply voltage | P0659 12 V supply for dosing module – above the upper limit
DCU 19100 Urea level sensor (electrical) | supply voltage error | P203E Reagent level sensor – intermittent/erratic circuit
DCU 19101 Urea level sensor (electrical)  signal high P203D Reagent – tank level sensor – short circuit high
DCU 19102 Urea level sensor (electrical) | signal low | P203C Reagent tank level sensor – short circuit low
DCU 19109 Urea tank temperature sensor (electrical) signal high P205D Reagent – tank temperature sensor (reagent-solution tank temperature) – short circuit high
DCU 19110 Urea Tank Temperature Sensor (Electrical) | signal low | P205C Reagent – tank temperature sensor (reagent-solution tank temperature) – short circuit low
DCU 19145 Dosing valve (electric) | short circuit to battery + | P2049 Reductant Injector – signal high
DCU 19146 Dosing valve (electric) | short circuit to earth | P2048 Reductant Injector – circuit low
DCU 18147 Dosing valve (electric) | open loading | P2047 Reductant Injector – circuit open
DCU 19148 Dosing valve (electric) | Dosing valve permanently on (fast decay detection) | P209B Reagent dosing nozzle pressure too high
DCU 19154 Urea pump speed | pump motor off | P208B Reagent pump not supplying
DCU 19155 Urea pump speed | pump motor blocked | P208A Reagent pump
DCU 19156 Urea pump speed | pump overspeed | P208D Reagent Pump Overspeed
DCU 19157 Urea pump speed | Hall sensors defect | P208B Reagent pump not supplying
DCU 19163 Cooling control valve short circuit to UBat or open load | short circuit to battery | P20A3 Vent valve (reductant purge control valve) – short circuit high
DCU 19164 Cooling control valve short circuit to UBat or open load | Open download | P20A0 Vent valve (reductant purge control valve) – open circuit
DCU 19172 Cooling control valve, short to ground | short circuit to earth | P20A2 Vent valve (reagent purge control valve) – short circuit, low
DCU 19181 Check valve (4-2 way valve?) motorized | Short circuit to battery | P20A3 Vent valve (reductant purge control valve) – short circuit high
DCU 19182 Check valve (4-2 way valve?) motorized | Short circuit to earth | P20A2 Vent valve (reagent purge control valve) – short circuit, low
DCU 19183 Check valve (4-2 way valve?) motorized | Open download | P20A0 Vent valve (reductant purge control valve) – open circuit
DCU 19262 Tank heating valve | Short circuit to battery | P20B4 Reagent – tank heating valve – short circuit high
DCU 19263 Tank heating valve | Short circuit to earth | P20B3 Reagent – tank heating valve – short circuit low
DCU 19264 Tank heating valve | Open download | P20B1 Reagent – tank heating valve – open circuit
DCU 19289 Temperature too low after catalyst | Downstream catalyst physical temperature (catalyst heating time failure) | P042B Catalyst temperature sensor circuit range/performance
DCU 19298 Urea pressure too low at system startup | Urea pressure too low at system startup | P208B Reagent Pump Not Delivering
DCU 19307 Urea pressure too high | Urea pressure implausible (urea pressure too high) | P204B Reagent pressure above threshold
DCU 19316 Urea temperature in pump module out of range | Urea Temperature Block – Physical (Urea Block Temp NOT OK: Out of Range) | P2043 Pump Module Reagent Temperature Sensor Out of Range
DCU 19325 Urea tank temperature out of range | Urea tank temperature – physical (Urea tank temperature NOT OK: out of range) | P205B Reagent tank temperature sensor (reagent solution temperature in tank) out of range
DCU 19334 System stuck and not released in time | Defrost Mode and Detection Errors (Unsuccessful Inlet Line Defrost) | P20C2 Reagent – Suction Tube Heat – Heat Detection Mode
DCU 19335 The system hung and did not free itself in time | Defrost mode and detection errors (unsuccessful pressure line defrost) | P20BE Reagent – pressure tube heating – heating detection mode
DCU 19336 The system hung and did not free itself in time | Defrost Mode and Detection Errors (Failed to pressurize in Detection Mode) | P20C5 pump module – internal heating – open circuit
DCU 19337 The system hung and did not free itself in time | Defrost mode and detection errors (unsuccessful defrost of the reverse flow line) | P20B9 Reagent – return flow tube heating – open circuit
DCU 19343 Coolant control valve mechanical | mechanical defect locked open | P20A3 Vent valve (reductant purge control valve) – short circuit high
DCU 19344 Coolant control valve mechanically |mechanically failed, blocked, closed | P20A0 Vent valve (reagent purge control valve) – open circuit
DCU 19352 Check valve (4-2 way valve) mechanical | valve does not open | P20A0 Vent valve (reductant purge control valve) – open circuit
DCU 19361 Battery voltage (actual value) | High battery voltage | P0562 Battery Voltage Evaluation – Below Low Limit
DCU 19362 Battery voltage (actual value) | Battery voltage low | P0563 Battery voltage estimate – above the upper limit
DCU 19370 Urea pressure too low (in commissioning state) | Pump motor error during commissioning (pump does not pump) | P208B Reagent pump not supplying
DCU 19379 UREA Commissioning temperature too low | Implausible temperatures during commissioning.
DCU 19415 Urea tank empty P203F Reagent – tank liquid level – too low
DCU 19532 Return line clogged | P2063 Reagent – dosing valve – short circuit, low
DCU 19541 Mechanical coolant control valve | Locked closed | P20A1 Vent Valve Test Plausibility Test (Startup)
DCU 19550 Pressure line blocked | pressure line blocked | P209B Reagent-dispenser-pressure too high
DCU 19559 Urea Low 1 (Warning) – Urea Below Limit 1 – Reagent P203F – Tank Fluid Level – Too Low
DCU 19568 Urea Low 2 (Warning) – Urea Below Limit 2 – Reagent P203F – Tank Fluid Level – Too Low
DCU 19577 CAN receive E2SCR frame (metering, exhaust gas flow, exhaust gas temperature, error suppression, heater, long-term failure) | SAE J1939 CAN Signal Reception Test: (UREA out of range) | P0600
DCU 19578 CAN receive E2SCR frame (metering, exhaust gas flow, exhaust gas temperature, error suppression, heater, long-term failure) | SAE J1939 CAN Signal Reception Test: (Dispensing Status Out of Range) | P0600 Serial communication link
DCU 19579 CAN receive E2SCR frame (metering, exhaust gas flow, exhaust gas temperature, error suppression, heater, long-term failure) timeout P0600 Serial communication link
DCU 19580 CAN receive E2SCR frame (metering, exhaust gas flow, exhaust gas temperature, error suppression, heater, long-term failure) | too many CAN messages | P0600 Serial communication link
DCU 19581 Receive CAN frame E2SCR (metering, exhaust gas flow, exhaust gas temperature, error suppression, heater, long-term failure) SAE J1939 CAN signal reception test _P0600 Serial communication link
DCU 19595 CAN receive EEC1 frame (driver request, motor speed, motor torque) | SAE J1939 Check for CAN signal: (engine torque out of range) | P0600 Serial communication link
DCU 19596 CAN receive EEC1 frame (driver request, motor speed, motor torque) | SAE J1939 CAN Signal Reception Test: (Engine RPM Out of Range) | P0600 Serial communication link
DCU 19597 CAN receive EEC1 frame (driver request, motor speed, motor torque) timeout P0600 Serial communication channel
DCU 19598 CAN receive EEC1 frame (driver request, motor speed, motor torque) | too many CAN messages | P0600 Serial Communication Link
DCU 19599 CAN receive EEC1 frame (driver request, motor speed, motor torque) | SAE J1939 CAN Signal Reception Test : (Torque Request Out of Range) | P0600 Serial communication link
DCU 19604 CAN receives frame ET1 (engine with oil and water temperature) | SAE J1939 CAN Signal Reception Test : (Oil Temperature Out of Range) | P0600 Serial communication link
DCU 19605 CAN receive frame ET1 (engine with oil and water temperature) timeout P0600 Serial communication link
DCU 19606 CAN receives frame ET1 (engine with oil and water temperature) | too many CAN messages | P0600 Serial communication link
DCU 19607 CAN receives frame ET1 (engine with oil and water temperature) | SAE J1939 CAN Signal Reception Test: (Water Temperature Out of Range) | P0600 Serial communication link
DCU 19649 UREA tank level error (CAN message or electrical part with real sensor) | CAN level: SAE J1939 no Signal available Level sensor connected directly: Sensor supply error | P203A Reagent tank level sensor – open circuit
DCU 19650 UREA Tank level error (CAN message or electrical with real sensor) Level above CAN: SAE J1939 Signal out of range Level sensor connected directly: SRC high P203D Reagent – tank level sensor – short circuit high
DCU 19651 UREA tank level error (CAN message or electrical with real sensor) | CAN level: SAE J1939 Faulty signal Level sensor connected directly: SRC low | P203C Reagent tank level sensor – circuit low
DCU 19676 Ambient Temperature: SAE J1939 CAN Signal Reception Check: (Signal Range Check: Signal Out of Range / Bad Signal / Signal Not Available) | SAE J1939 CAN Signal Reception Test: (ambient temperature out of range) | P0600 Serial communication link
DCU 19677 Ambient temperature: SAE J1939 CAN signal reception check: (Signal range check: signal out of range / signal error / signal not available) timeout P0071 Ambient air temperature sensor range/performance
DCU 19678 Ambient Temperature: SAE J1939 CAN Signal Reception Check: (Signal Range Check: Signal Out of Range / Faulty Signal / Signal Not Available) | too many CAN messages | P0071 Ambient Air Temperature Sensor Range/Performance
DCU 19679 Ambient Temperature: SAE J1939 CAN Signal Reception Check: (Signal Range Check: Signal Out of Range / Faulty Signal / Signal Not Available) | SAE J1939 CAN Signal Reception Test: (Barometric Pressure Out of Range) | P0071 Ambient Air Temperature Sensor Range/Performance
DCU 19721 EEPROM / Checksum Error | EEPROM write error | P062F Internal Control Module EEPROM Error
DCU 19722 EEPROM / Checksum Error | No corresponding variant number error | P062F Internal Control Module EEPROM Error
DCU 19723 EEPROM / Checksum Error | EEPROM communication error | P062F Internal Control Module EEPROM Error
DCU 19724 EEPROM / Checksum Error | EEPROM Detection Error OR Code Error | P062F Internal Control Module EEPROM Error
DCU 19725 EEPROM / Checksum Error | Wrong EEPROM size | P062F Internal Control Module EEPROM Error
DCU 19730 Ignition switch signal K15 | ignition on digital input not detected during initialization | P2530 Ignition lock – plausibility error
DCU 19739 Main relay opens too early/too late | main relay cuts out too late | P0687 ECM/PCM Power Relay Control Circuit High
DCU 19740 Main relay opens too early/too late | short circuit of the main relay | P0685 ECM/PCM Power Relay Control Circuit / Open
DCU 19741 Main relay opens too early/too late | main relay circuit open | P0687 ECM/PCM Power Relay Control Circuit High
DCU 19742 Main Relay Opens Too Early/Too Late Main Relay Opens Too Early (Before EEPROM Update) P0685 ECM/PCM Power Relay Control Circuit/Open
DCU 19748 Urea Pump Module Temperature Too High or Leak Test Failed (Emergency Shutdown) Over Temperature Detection (Urea Pump Module Temperature) P2043 Pump Module Reagent Temperature Sensor Out of Range
DCU 19749 Pump module urea temperature too high or leak test failed (safety shutdown) | urea leak detection (static or dynamic) | P202D Urea Dynamic Leak Test – Leak Detected
DCU 19757 Injection Control Path Group Error | UREA Injection Control Group Related Error UREA | P208B Reagent Pump Not Delivering
DCU 19766 Group error path Air control | Group air control related error | P20A7 Compressed air control valve
DCU 19775 Catalyst Temperature Path Group Error | Group Related Error Catalyst Temperature Out of Range | P0426 Catalyst Temperature Sensor Plausibility – Plausibility Error (static)
DCU 19784 NOx group error path exceeded | NOx group related error exceeded active | P2000 NOx trap efficiency below threshold
DCU 19793 Group error path Urea tank empty | Group related error Urea tank empty active | P203F Reagent tank liquid level too low
DCU 19999 DCU15 Unknown Trouble Code
DTC Fault Code Lists of New Holland & Case IH Tractors: